Lowest Ireland Fery Ticket Price Guarantee
We always offer you our lowest available Ireland ferry ticket prices! If you find the same Ireland ferry ticket cheaper in the brochure of any other tour operator, we will do our best to beat that price.
No Surcharge Guarantee
Whatever happens, the price on your Ireland ferry ticket booking confirmation at the time of your early booking is the price you pay.
Cheapest Ireland Ferry Tickets
Representing over 40 ferry operators offering services from Morocco and Tunisia in the south to Iceland in the far north ferryto.co.uk offer you a wide selection of ferry tickets at our lowest available price.
Book your cross channel ferry tickets to and from the UK, Ireland, France, Italy, Germany, Holland and Spain online in advance to benefit from our cheapest currently available ferry ticket prices for travel with almost all major ferry operators including P&O, Stenaline, Brittany Ferries, Seafrance and Irish Ferries that we are able to offer you.
IRELAND - Travel and Country Information
It's said that Ireland, once visited, is never forgotten, and for once the blarney rings true. The Irish landscape has a mythic resonance, the country's history is almost tangible, and its people seem put on earth expressly to restore faith in humanity.
The weather may sometimes give you the impression that you're swimming through an airborne ocean, but the truly luminous greens, luxuriant wildflowers, and afternoons spent holed up in riotous pubs will more than console you for the webbed feet you'll need to grow. There are fifty shades of green, and none of them are jaded.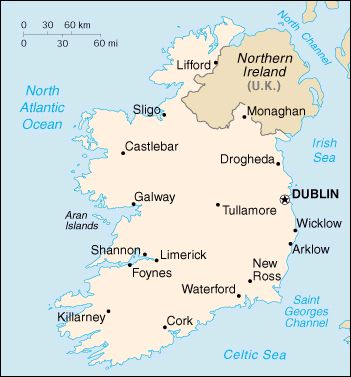 Timezone
GMT 0 hours
Environment
Area (sq km) : 69000
Population: 3969000
Quick Money Comparison
Litre of milk: £0.85
Street snack (pub sandwich): £3.50
An umbrella: £5.00
Movie ticket: £8.00
Cup of coffee: £2.00
Can of soft drink: £0.75
CD: £23.00
Litre of petrol: £0.95
Pint of Guinness: £4.00
Souvenir t-shirt: £15.00
Public Holidays In Ireland
St Stephen's Day - 26 December
St Patrick's Day - 17 March
Easter (Good Friday to Easter Monday inclusive) - March/April
Christmas Day - 25 December
May Holiday - 1 May
New Year's Day - January 1
Ireland City Tours & Activities
Ferryto.co.uk have partnered the biggest online city tour and activity agency on the Internet, Viator, to offer you access to exciting tours and activities in all major destinations around Ireland.
---
| | | |
| --- | --- | --- |
| | No trip to Dublin is complete without a participating in a pub crawl! On this unique musical pub crawl you'll boogie around the Temple Bar area for over two hours. Listen to traditional Irish songs performed by two talented Irish musicians, as they show you some of the most famous and vibrant Irish bars in Dublin including Oliver St. John Gogarty's, Ha'penny Bridge Inn and Isoldes Tower. As the Guinness gets flowing, the singing gets louder! | |
| | | |

---

| | | |
| --- | --- | --- |
| | Dublin offers a cultural feast of fine museums, historic buildings, vibrant nightlife and much more! Explore with this 24 hour ticket aboard an open-top double-decker bus. See all the main sights of Dublin as you hop on and hop off 20 stops around the city. Listen to the English commentary and learn interesting facts. Spend as much or as little time at places of interest before jumping aboard for the next stop - the choice is yours! | |
| | | |

---

This is one of the few tours that offer a guided visit into the actual tomb of Newgrange (3000 BC) one of the oldest and largest Neolithic burial chambers in Europe. It predates the Egyptian pyramids - that's the WOW factor for anyone interested in history! Also enjoy a relaxed drive through the Boyne Valley including the site of the famous Battle of the Boyne and conclude with a visit to Mellifont Abbey.
This tour is seasonal and only operates from April through to October

---

| | | |
| --- | --- | --- |
| | Looking for an easy way to get from Dublin Airport to your city hotel? Forget all the stress and enjoy a hassle free transfer with Ireland's premier airport transfer service which offers a personalized door to door transfer service between Dublin International airport and central Dublin hotels, which is unmatched by any other service. | |
| | | |

---

| | | |
| --- | --- | --- |
| | Gain free entry to over 30 attractions! Not only does the pass offer great value and convenience, it also allows you to be a VIP and skip the queues at major attractions. From the minute you arrive in Dublin Airport, you can collect the pass and travel FREE to the city Center with Aircoach. From there, experience the delights Dublin has to offer for a fraction of the cost. | |
| | | |

---

| | | |
| --- | --- | --- |
| | Come and discover Dublin's historic hinterland! You'll have the opportunity to wander through the picturesque estate of Malahide Castle while taking in the amazing views of Dublin Bay. Your visit to the castle includes a guided tour with time to take in the on site craft shops. The tour proceeds to the Howth summit where you will enjoy magnificent views of the Bay. Book your spot today! | |
| | | |

---

| | | |
| --- | --- | --- |
| | Enjoy the sights and views of Dublin's beautiful southern coastline. You'll have the opportunity to explore one of Europe's most impressive gardens at Powerscourt. Stroll around the craft shops or relax with a late morning coffee. Don't be disappointed - book your seat today! | |
| | | |

---

| | | |
| --- | --- | --- |
| | An enchanting day tour to the glorious West of Ireland where John Ford filmed "The Quiet Man". You'll arrive through Galway (City of the Tribes), see Clifden (Capital of Connemara), Kylemore Abbey and explore Connemara which means "inlets of the sea". Don't forget your camera to capture the breathtaking panoramas. Book now and experience the magical mystery of Ireland and its people! | |
| | | |

---

| | | |
| --- | --- | --- |
| | A lovely half-day tour into the Wicklow Mountains to visit Ireland's most famous village, Avoca, otherwise known as "Ballykissangel", situated in the beautiful Vale of Avoca. Also visit the magnificent Glendalough (valley of the two lakes). Be sure to bring some spare change to enjoy a pint (or two) in Fitzgeralds Bar at Ballykissangel. | |
| | | |

---

| | | |
| --- | --- | --- |
| | A day trip to Ireland's rugged and unique mid-western coast, through Limerick on the mighty River Shannon and on then to the imposing Bunratty Castle with its lovely folk park. Admire the stunning Cliffs of Moher, the Burren and Galway Bay. At Limerick take a short city tour which includes the setting for the movie "Angela's Ashes". | |
| | | |

---

Click Here to view details of more city activities and tours in Ireland.


When Best To Visit Ireland
If you go to Ireland in July or August, you can expect reasonably warm weather, longer days and a lively menu of festivals. However, this is peak season, which presents some challenges if you're wanting a bit of solitude.

Transport To and From Ireland
Flights - Most international visitors to Ireland travel via England, although Shannon airport has flights directly from the USA.
The best way to secure a low air fare to and from Ireland is to compare ticket prices and book your tickets online in advance.

There are flights between Dublin and London's four international airports, as well as flights from British provincial cities. Several major European cities offer direct flights to Ireland. Airport departure taxes are built into the cost of your ticket.
Ferry services between Ireland and Britain operate between Dublin and Holyhead in Wales, and between Rosslare and Fishguard and Pembroke, also in Wales. Ferry services also link Cork with St Malo, Cherbourg and Le Havre in France.
Saftey In Ireland
Ireland is safer than most countries in Europe but normal precautions should be observed. In Dublin, drug-related crime is quite common and the city has its fair share of pickpockets and thieves; it's also particularly notorious for car break-ins.
The Troubles are confined to Northern Ireland, and the threat of violence is diminishing as the peace process continues.

Entertainment and Activities In Ireland
Many diverse events and festivals take place around the country over the year. The best way to get active in Ireland is to head out into its countryside on foot or cycle. The enchanting landscapes will more than make up for the occasional punishing hill.
Of course, if punishing hills are your thing, there are some great mountain-climbing opportunities. You're also never far from the sea, which will delight scuba divers, sailors and surfers.
February sees the Dublin International Film Festival.
At Easter many small towns hold parades and townsfolk gorge themselves on chocolate eggs.
June 16 is Bloomsday in Dublin, with re-enactments of Ulysses and readings throughout the city. Listowel in County Kerry holds a Writers' Week literary festival during June, and there's a Jazz & Blues Festival in Belfast.
July is when marching really gets into its stride in Northern Ireland, and every Orangeman hits the streets on the Glorious 12th to celebrate the Protestant victory at the Battle of the Boyne.
August is equestrian month, with the Dublin Horse Show and races in Tralee. Also in county Kerry, at Killorglin, the ancient Puck Fair heralds unrestricted drinking for days and nights.
In September, Cork has its Film Festival and Belfast has a Folk Festival.
In October, Dublin has its Theatre Festival, Ballinasloe in County Galway hosts the country's largest cattle and horse fair, and Kinsale in County Cork is home to Ireland's gourmet festival.
In Wexford the November Opera Festival is an international event.
Christmas is a quiet affair in the countryside, though on 26 December the ancient practice of Wren Boys is reenacted, when groups of children, traditional musicians and Irish dancers perform at area homes, asking donations in exchange for a year's worth of good luck.

Places To See In Ireland
Mossy castles, glossy museums and all the green you can handle!
Religion has always been Ireland's meat and drink, and there are an abundance of sacred sites, from stone circles and dolmens to 1000-year-old early Christian churches. Castles, forts, musuems and mansions, many with exquisite gardens, dot the countryside.
Kilkenny Castle
Castle Rd Call for info: (056) 772 1450Jun-Sep 10:00-19:00; Oct-Mar Tue-Sat 10:30-12:45 & 14:00-17:00, Sun 11:00-12:45 & 14:00-17:00; Apr-May 10:00-17:00
On a lovely bend of the Nore is Kilkenny Castle, one of Ireland's most magnificent fortresses. Work continues to restore the castle to its Victorian splendour and many of the rooms have only recently been opened to the public. Most of the furnishings are not original to the castle, but nonetheless you see some splendid Victorian antiques.
Admission: full €5.00 child €2.00


Leap Castle
Call for info: (0509) 3111510:00-17:00
Leap Castle is reputedly one of the most haunted castles in Europe. Originally an O'Carroll family residence, the castle was the scene of many dreadful deeds and is famous for its eerie apparitions - its most renowned inhabitant is the 'smelly ghost', a spirit that apparently leaves a smell behind after sightings.
Admission: full €6.00


Mt Brandon
At 951m (3119ft), Mt Brandon (Cnoc Bhréannain) is Ireland's second-highest mountain and makes for a popular climb. It's made up of a beautiful series of high summits that lie along the edge of a spectacular series of east-facing cliffs and steep ridges above a rocky lake-filled valley. Allow six to seven hours for ascent and descent of the mountain (and back).
Admission: free


Cliffs of Moher
R478 Call for info: (065) 708 1171
One of Ireland's most famous sights, the Cliffs of Moher (Aillte an Mothair, or Ailltreacha Mothair) rise to a height of 203m (666ft). They are entirely vertical and the cliff edge is abrupt. Where access is permitted there's a protecting wall. On a clear day the views are tremendous, with the Aran Islands etched on the waters of Galway Bay.
Admission: free


Giant's Causeway
Call for info: (028) 2073 1855
Northern Ireland's main tourist attraction, the hexagonal basalt columns, (all 38,000 of them including the ones underwater) are amazingly uniform. A recommended walk is from the Giant's Causeway 16km (10mi) east along the coast (not the highway), past Dunseverick Castle to the beach at Whitepark Bay.
Admission: free


Blarney Castle
Call for info: (021) 438 5252May & Sep: Mon-Sat 09:00-18:30, Sun 09:30-17:30; Jun-Aug: Mon-Sat 09:00-19:00, Sun 09:30-17:30; Oct-Apr: Mon-Sat 09:00-18:00, Sun 09:30-17:00
Dating from 1446, Blarney Castle is a tower house built on solid limestone in wonderful grounds that are ideal for a picnic. Someone will soon talk you into kissing the Blarney Stone, a custom invented fairly recently, though Blarney's association with the gift of the gab goes back a long time.
Admission: full €4.45 child €1.25


Killarney National Park
Enclosed within Killarney's 10,236-hectare (25,280-acre) national park are beautiful Lough Leane (the Lower Lake or 'Lake of Learning'), Muckross Lake and the Upper Lake, as well as the Mangerton, Torc, Shehy and Purple Mountains. Areas of oak and yew woodland stretch for miles. This is wonderful walking and biking country.
Admission: free


Clonmacnoise
Call for info: (090) 967 4195Jun-Sep 09:00-19:00, Oct-May 10:00-17:00
Situated in County Offaly, this is Ireland's most important monastic site. It consists of a walled field containing numerous early churches, high crosses, round towers and graves. Many of the remains are in remarkably good condition and give a real sense of what monasteries were like in their heyday.
Admission: child €2.00 full €5.00

Getting Around In Ireland
The best way to see Ireland is by car, especially as many sights of interest are not served by public transport.
The Irish, like the British, drive on the left. Don't be fooled by Ireland's size: getting around by public transport is not as easy as you might like to think. Distances may be short, but in Ireland getting from A to B never follows a straight line.
Car hire is the most convenient method you can use to explore Ireland. To avoid paying premium rates you are advised to book your hire car online in advance.


Rail fares are particularly expensive, there are notable gaps in the routes, and the frequency of both bus and train services can leave a lot to be desired.


Coach tours are one of the best and most economical ways to see all of what Ireland has to offer. There are a feww good coach tour operators that offer good deals to visitors to Ireland.


Taxis are expensive, and a perennial shortage (despite 6000 new permits being issued in 2001) means it can be hard to catch one, especially around the weekend after the pubs close.


Cycling - Apart from Ireland's wealth of walking and hiking opportunities, cycling is a great way to get around - if you can ignore the hills, poor road surfaces and wet weather. Tourist offices all have regional cycling maps to help you plan your tour. West Cork in particular is ideal for cycling holidays.

VISITING DUBLIN
You'll be thanking your four-leafed clover you dallied in Dublin!
In the wake of a remarkable economic boom, Dublin's landscape has changed immeasurably over the past decade. These days Dublin ranks among the top tourist destinations in Europe, and this vibrant city hums with a palpable sense that it is creating a new cultural heritage.
The city's burst of prosperity gave it a new confident sheen, but what remains special is the spirit of the people who ensure that, despite whirlwind changes, Dublin remains one of Europe's most down-to-earth, friendly and accessible cities.
Dublin lies on the east coast of Ireland, with Greater Dublin sprawling around the arc of Dublin Bay, bounded to the north by the Howth hills and to the south by the Dalkey headland.
The city is split - physically and psychologically - by the river Liffey; the north has traditionally been poorer and the south wealthier. Two canals - the Grand Canal in the south and the Royal Canal in the north - form semi-circular arcs around the centre.
North of the river, the most important streets for visitors are O'Connell St, the major shopping thoroughfare that leads to Parnell Square, and Gardiner St, a B&B and hostel hotspot.
To the west, the Smithfield area is emerging as a tourist magnet. Busáras, the main bus station, and Connolly station, one of the two main train stations, are near the southern end of Gardiner St.Immediately south of the river is the hub of Dublin, Temple Bar, where you'll find a concentration of pubs, restaurants, shops and a number of art galleries.
Nearby Trinity College is at the southern end of Grafton St, the city's most exclusive shopping street. On the south side you'll also find the best examples of Georgian Dublin, with stately houses and elegant parks.
Eating Out In Dublin
Ireland's largest city is also the nation's culinary capital. From the lowliest greasy-spoon diner serving the kind of deep-fried food that your arteries will resent, to the fanciest Michelin-starred restaurant where eating is a veritable culinary journey, Dublin is a glutton's delight.
Dublin Nights Out
While Dublin's nightlife has been jacked up in recent years and now includes a dizzying roundabout of trendy bars, cafes and clubs, the local pub still exerts a centrifugal pull on fun. The pub is a meeting point for friends and strangers alike, the place where Dubliners are at their most convivial.
Shopping in Dublin
Classy crystal, chunky knitwear and off-beat artefacts.
If it's made in Ireland, you can probably buy it in Dublin. Traditional buys include Irish knitwear, Celtic-style jewellery, crystal, fine china and linen. But there are also loads of small shops selling eccentric and offbeat wares and your souvenir trinket doesn't have to be staid.
Activities in Dublin
Outdoor exertions are surprisingly popular in this sodden city. For the literarily inclined, retracing Leopold Bloom's illustrious journey across the city is a must, but even just walking around town for pleasure is a joy. The hardier can try swimming or pit their wits against Irish fish.
Walking - Dublin is a lovely, ancient and compact city, so it's no surprise that it features many great walking tours. Beautiful parks, history-rich suburbs and some of the best Georgian architecture in the world make for dreamy scenery.


Swimming - If you can take the goose-pimpling temperatures there are some beaches, such as the nearby Sutton, to dip your toe in; or you can do as Buck Mulligan did and swim in the Forty Foot Pool at Dun Laoghaire.


Fishing - Fishing is enormously popular, and the coastal areas of Howth and Dun Laoghaire are great sea-fishing spots. Amazingly, the river Liffey has fair salmon fishing, and trout almost jump onto your line near Clane, 20km (12mi) from the city centre.


Sleeping - Dublin's downtown ritziness dilutes as you head out to the affordable 'burbs. But the city's weekend popularity can make finding a bed pretty tough in any price range, particularly in summer. Making a reservation will make life much easier.


Places To See / Visit In Dublin
Though most people don't schedule too much gallery time into the pub crawl, Dublin museums offer a wealth of collectables. From the proverbial pot of Irish gold to the artistic riches of the Book of Kells to a host of quirky 'objets d'religious', it's a city of archives and artefacts. Unlike London many of the best places to visit have free entry to all visitors.
Trinity College
College Green Call for info: (01) 677 294107:00-24:00
Ireland's premier university is both a tranquil retreat from the bustle of the city and the home of Dublin's biggest attraction, the Book of Kells. Established by staunchly Protestant Elizabeth I in 1592 in an effort to stop 'popery', the university's ancient ivy-covered walls crawl with history and a sense of occasion.
Admission: concession 6.50 full 7.50 family 15.00St Patrick's Cathedral
St Patrick's Close Call for info: (01) 475 4817Mar-Oct 09:00-18:00; Nov-Feb Mon-Fri 09:00-18:00, Sat 09:00-17:00, Sun 09:00-15:00


St Patrick's Cathedral stands on one of Dublin's earliest Christian sites. St Patrick is said to have baptised converts at a well within the cathedral grounds. Although a church stood on the site from the 5th century, the present building dates from 1191, and several major alterations have been made since then.
Admission: concession 3.20 full 4.20 family 9.50


James Joyce Museum
Call for info: (01) 280 9265Apr-Oct Mon-Sat 10:00-13:00, 14:00-17:00, Sun 14:00-18:00
Housed inside a Martello tower that overlooks Dublin Bay, the James Joyce Museum combines memorabilia from throughout the celebrated writer's life with a dramatic setting that has a story all its own.
Admission: family €17.50 full €6.25 child €3.75


National Gallery of Ireland
Merrion Sq West Call for info: (01) 661 5133Mon-Wed & Fri-Sat 09:30-17:30, Thu 09:30-20:30, Sun 12:00-17:30
The National Gallery opened in 1864 and has built up a sizeable holding of Irish, British and European art. Its collection has grown, mainly through bequests, to around 12,500 artworks, including oils, watercolours, drawings, paints and sculptures.
Admission: free


National Museum of Ireland - Archaeology & History
Kildare St Call for info: (01) 677 7444Tue-Sat 10:00-17:00, Sun 14:00-17:00
The National Museum is home to a fabulous bounty of Bronze Age gold, Iron Age Celtic metalwork, Viking artefacts and impressive ancient Egyptian relics. The Palladian-style Victorian building is a fine setting for the collection, with its 18m (62ft) domed rotunda, marble columns and mosaic floors.
Admission: free


Guinness Storehouse
James St Call for info: (01) 408 480009:30-17:00
Like a Disneyland for beer lovers, the Guinness Storehouse is an all-singing, all-dancing extravaganza combining sophisticated exhibits with more than a pintful of marketing hype. The best part of the Storehouse tour is the rooftop Gravity Bar, where you can kick back with a pint of the black stuff.
Admission: child €5.00 concession €9.00 full €13.50 family €30.00


Dublin Castle
Dame St Call for info: (01) 677 7129Mon-Fri 10:00-17:00, Sat-Sun 14:00-17:00
The centre of British power in Ireland, built on the orders of King John in the early 13th century, Dublin Castle is more correctly described as a palace. Of the original Anglo-Norman fortress built on the Viking foundations, only the Record Tower remains. The most fascinating part of the castle is underground – a chunk of the old city walls and moat.
Admission: full €4.00 concession €3.00


Christ Church Cathedral
Christchurch Pl Call for info: (01) 677 809909:45-17:00
Dublin's most imposing church, Christ Church, lies within the old heart of medieval Dublin. Built on the site of an existing wooden Viking church, the stone cathedral was commissioned in 1172 by the Anglo-Norman conqueror of Dublin, Richard de Clare ('Strongbow') and Archbishop Laurence O'Toole.
Admission: concession €2.50 full €5.00 family €7.00


National Museum of Ireland - Natural History
Merrion St Call for info: (01) 677 7444Tue-Sat 10:00-17:00, Sun 14:00-17:00
This museum has scarcely changed since 1857, when Scottish explorer Dr David Livingstone delivered the inaugural lecture. The creaking interior gives way to an overwhelming display of stuffed animals and mounted heads, crammed in like something from a Hitchcock movie. Of the two million species on display in the museum, many are long extinct.
Admission: free


Chester Beatty Library
Ship St Call for info: (01) 407 0750Mon-Fri 10:00-17:00, Sat 11:00-17:00, Sun 13:00-17:00
The astounding collection of New York mining magnate Sir Alfred Chester Beatty is the basis for one of Dublin's best, if less-visited, museums. An avid traveller and collector, Beatty amassed more than 20,000 manuscripts, rare books, miniature paintings, clay tablets, costumes and other objects d'art.
Admission: free
Communications In Ireland
Telephones - Most public phones accept coins, phonecards and/or credit cards and offer a full range of services, including reverse-charge, operator-assisted and directory inquiries calls. Local telephone calls from a public phone cost 0.25 for around three minutes, irrespective of when you call. Publicly owned Eircom is Ireland's largest telephone service provider, and all of Dublin's public phones bear their name.
Prepaid phonecards (known as callcards) are widely available from newsagents, post offices and convenience stores. A digital display on the telephone indicates how much credit is left on the card.
Mobile Phones - Ireland uses the GSM 900/1800 cellular phone system, which is compatible with phones sold in Europe and Australia but not North America and Japan.
There are three service providers in Ireland: Eircell (087), ESAT Digifone (086) and Meteor (085). All three are linked with most international GSM providers, which will allow you to 'roam' onto a local service once you arrive in Ireland. But check before you leave that this is the case.
Irish Culture and History
Pre 20c
The Celts, Iron Age warriors from eastern Europe, reached Ireland around 300 BC. They controlled the country for 1000 years and left a legacy of language and culture that survives today, especially in Galway, Cork, Kerry and Waterford. The Romans never reached Ireland and when the rest of Europe sank into the decline of the Dark Ages after the fall of the empire, the country became an outpost of European civilisation, particularly after the arrival of Christianity between the 3rd and 5th centuries.
During the 8th century Viking raiders began to plunder Ireland's monasteries. The Vikings settled in Ireland in the 9th century and formed alliances with native families and chieftains. They founded Dublin, which in the 10th century was a small Viking kingdom. The English arrived with the Normans in 1169, taking Wexford and Dublin with ease. The English king, Henry II, was recognised by the pope as Lord of Ireland and he took Waterford in 1171, declaring it a royal city. Anglo-Norman lords also set up power bases in Ireland, outside the control of England.
English power was consolidated under Henry VIII and Elizabeth I. The last thorn in the English side was Ulster, final outpost of the Irish chiefs, in particular Hugh O'Neill, earl of Tyrone. In 1607 O'Neill's ignominious departure, along with 90 other chiefs, left Ulster leaderless and primed for the English policy of colonisation known as 'plantation' - an organised and ambitious expropriation of land and introduction of settlers which sowed the seeds for the division of Ulster still in existence today.
The newcomers did not intermarry or mingle with the impoverished and very angry population of native Irish and Old English Catholics, who rebelled in a bloody conflict in 1641. The native Irish and Old English Catholics supported the royalists in the English Civil War; after the execution of Charles I, Oliver Cromwell - the victorious Protestant parliamentarian - arrived in Ireland to teach his opponents a lesson. He left a trail of death and destruction which has never been forgotten.
In 1695 harsh penal laws were enforced, known as the 'popery code': Catholics were forbidden from buying land, bringing their children up as Catholics, and from entering the forces or the law. All Irish culture, music and education was banned. The religion and culture were kept alive by secret open-air masses and illegal outdoor schools, known as 'hedge schools', but by 1778, Catholics owned barely 5% of the land. Alarmed by the level of unrest at the end of the 18th century, the Protestant gentry traded what remained of their independence for British security, and the 1800 Act of Union united Ireland politically with Britain. The formation of the Catholic Association by the popular leader Daniel O'Connell led to limited Catholic emancipation but further resistance was temporarily halted by the tragedy of the Great Famine (1845-51). The drastic failure of the potato crop during those years - during which Ireland exported other foodstuffs to England - led to mass starvation and set up a pattern of emigration that continued well into the 20th century.
Modern History
The bloody repercussions of the 1916 Easter Rising in Dublin added impetus to the push for Irish independence and in Britain's 1918 general election the Irish republicans won a large majority of the Irish seats. They declared Ireland independent and formed the first Dail Eireann (Irish assembly or lower house), under the leadership of Eamon de Valera, a surviving hero of the Easter Rising. This provoked the Anglo-Irish war, which lasted from 1919 to the middle of 1921. The Anglo-Irish Treaty of 1921 gave independence to 26 Irish counties, and allowed six, largely Protestant Ulster counties the choice of opting out. The Northern Ireland parliament came into being, with James Craig as its first prime minister. The politics of the North became increasingly divided on religious grounds, and discrimination against Catholics was rife in politics, housing, employment and social welfare. The south of Ireland was finally declared a republic in 1948, and left the British Commonwealth in 1949.
Instability in the North began to reveal itself in the 1960s and when a peaceful civil rights march in 1968 was violently broken up by the Royal Ulster Constabulary (RUC), the troubles were under way. British troops were sent to Derry and Belfast in August 1969; they were initially welcomed by the Catholics, but it soon became clear that they were the tool of the Protestant majority. Peaceful measures had clearly failed and the Irish Republican Army (IRA), which had fought the British during the Anglo-Irish war, re-surfaced. The upheaval was punctuated by seemingly endless tit-for-tat killings on both sides, an array of everchanging acronyms, the massacre of civilians by troops, the internment of IRA sympathisers without trial, the death by hunger strike of the imprisoned and the introduction of terrorism to mainland Britain.
Northern Ireland lost its vestige of parliamentary independence and has been ruled from London ever since. The Anglo-Irish Agreement of 1985 gave the Dublin government an official consultative role in Northern Ireland's affairs for the first time. The jubilantly received ceasefire of 1994 was undermined by further murders, the reoccurrence of terrorism in Britain and the perceived intransigence of the British government in Whitehall. The mood shifted again with the election of Tony Blair in 1997 with a huge Labour majority to support him. The two sides resumed discussions and, in 1998, formulated a peace plan that offered a degree of self-government for Northern Ireland and the formulation of a North-South Council that would ultimately be able to implement all-Ireland policies if agreed to by the governments in Belfast and Dublin. As part of the plan, which was fully endorsed by a referendum, the South gave up its constitutional claim to the North. However, the peace process continues to wobble, with trust remaining the main sticking point.
Recent History
By the late 1990s the Republic's economy was booming to the point that it was monikered the Celtic Tiger. This was mainly thanks to an injection of investment funds from the EU that helped renovate the country's infrastructure. It's been said that Ireland has skipped straight from an agricultural economy to a post-industrial one, as large computer and telecommunications firms moved in, bringing jobs and investment. However, the boom has slowed, unemployment is rising again, and the prohibitive cost of living creams off what fat there is. Ireland may yet have recourse to its perennial talent for enduring hardship with humour and grace.
Dover to Dunkerque Ferry Tickets,Dover to Calais Ferry Tickets, Dover to Boulogne Ferry Tickets, Cairnryan to Larne Ferry Tickets, Liverpool to Dublin Ferry Tickets, Weymouth to St Malo Ferry Tickets, Harwich to Hook of Holland Ferry Tickets, Hull to Zeebrugge Ferry Tickets, Holyhead to Dublin Ferry Tickets, Pembroke to Rosslare Ferry Tickets, Stranraer to Belfast Ferry Tickets, Fishguard to Rosslare Ferries Tickets,Holyhead to Dun Laoghaire Passenger Ferry, Fleetwood to Larne car Ferry, Portsmouth to Cherbourg Passenger Ferries, Portsmouth to Caen car Ferries, Newhaven to Dieppe Ferries Tickets, Newcastle to Amsterdam Cheap Ferry, Newhaven to Le Havre ferry Timetables, Ramsgate to Ostend Ferry Tickets, Liverpool to Belfast Ferries
Book your cross channel ferry tickets to and from the UK, Ireland, France, Italy, Germany, Holland and Spain online in advance to benefit from our cheapest currently available ferry ticket prices for travel with almost all major ferry operators including P&O, Stenaline, Brittany Ferries, Seafrance and Irish Ferries.